Pulau Ketam Ferry
December 1, 2023

How to go to Pulau Ketam ?
The only way to get to Pulau Ketam is with ferry or speedboat which is available at Pulau Ketam Jetty officially known as "South Port Passenger Terminal" or "Terminal Penumpang South Port". This jetty is located at Klang, Selangor very near to Port Klang. It would take around 1 hour plus drive away from Kuala Lumpur depending on traffic condition. Searching for "Jeti Pulau Ketam" in Bahasa, on Google Map or Wave is good enough to reach the jetty.
Pulau Ketam boat
There are 2 types of boats available at Pulau Ketam Jetty.  You can use any of them to get to Pulau Ketam.  The choices are speedboat which is usually operated by smaller operators and ferry which is operated by AliBaba.  From travel time perspective, speedboat would reach Pulau Ketam faster vice versa. The rough travel time would be around 20 minutes. As for Ferry, it would be more comfortable , with plenty of space, air condition deck , upper deck however the travel time to Pulau Ketam vice versa would be at least 30 minutes that would also depends on the tide situation. Ferry is also equipped with toilets and air conditioned lower deck. As for tourist, they would usually prefer ferry as guest would able to enjoy the sea breeze during travel time.
How to get to Pulau Ketam from KL?
Getting to Jeti Pulau Ketam with Public Transport
You can take Public transport such as Grab , Taxi or directly to Pulau Ketam Jetty.  Pulau Ketam Jetty is located just next to KTM Port Klang station. You can also take KTM Komuter to Port Klang station and walk just right to Pulau Ketam Jetty.
Driving
If you are driving, there are plenty of parking spaces next to Terminal Penumpang South Port. You can park your car if you are staying overnight at Pulau Ketam. Updated 2023, the charges of parking is hourly basis. So the parking can get quite hefty if you are parking overnight here.
Pulau Ketam Ferry price 2023
RM 12 for adults, RM 6 for children. Buying return ticket would save you some money at RM 20 for round trip. If you are buying round trip, you will be stucked using the same boat company. Do take note that sometimes boat only leaves when there are enough passengers. The choice is totally up to you.
RM 12 Adult one way
RM  20 Adult round trip
RM 6 Children one way
RM 12 Children round trip
Pulau Ketam ferry time table | Schedule
At the time of writing, there are plenty of boats leaving from and to Pulau Ketam. Speedboat leaves whenever passengers have filled the boat while Alibaba Ferry leaves around 30 minutes.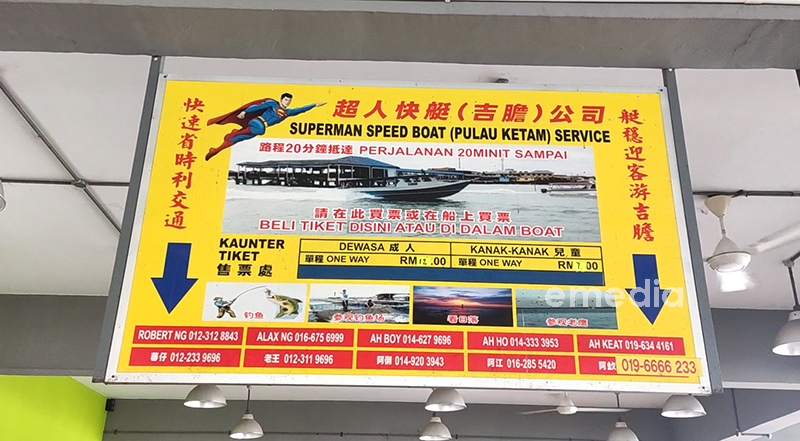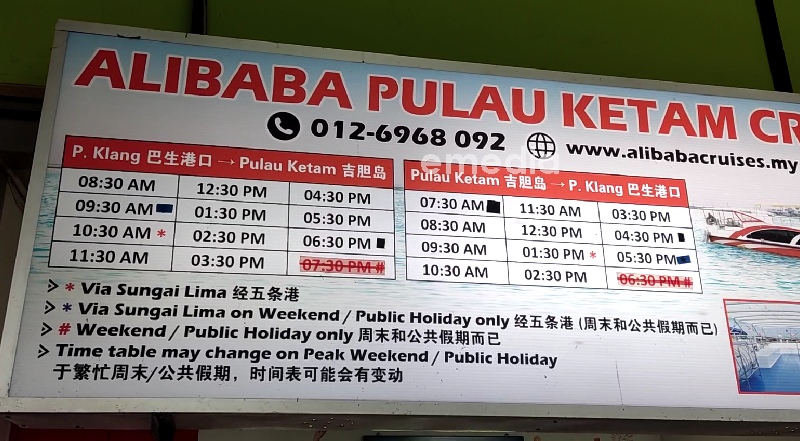 Port Klang to Pulau Ketam (Weekends and Public Holidays)
07:30 am
08:30 am
09:30 am
10:30 am
11:30 am
12:30 pm
1:30 pm
2:30 pm
3:30pm
4:30pm
5:30pm
How to buy tickets?
Tickets can be bought directly from the boat. You do not even need to go to the counters at the port. There are plenty of tickets available unless during super peak holiday season. Alternatively, tickets can also be bought online.