Chin Woo Swimming Pool
December 1, 2023
Chin Woo Swimming Pool is perhaps one of the oldest swimming pool in the country. Chin Woo Swimming pool is privately maintained but it's open to public.  This swimming has existed right before Merdeka and it is still serving public. The Swimming pool is located exactly below Menara PNB 118. It must have been one of the most scenic pool in Malaysia. Chin Woo Swimming pool is one of the very few private pool that is open to public.
The facilities may be a little old, however it is one of the best maintained pool in Malaysia.  It has full active lifeguard on duty. Currently there is one large Olympic size pool and one small kid pool. The olympic size pool is 50 meters.  There is also canteen next to the swimming pool . Please keep your tickets as you may go out and eat and come back inside the pool.  The Olympic size pool comes with diving platform and can go more than 20 meters deep.
Pool is also equipped with bathrooms and toilets.
Chin Woo Stadium Parking Rate
Parking is available at the Chin Woo complex. The parking rate is RM3. You can drive up from PNB118 entrance
Chin Woo Swimming pool Opening Hours / Schedule
The beauty of Chin Woo swimming pool is, there are no fixed session.  You can go and and swim as much as you want. There is also a canteen at just the entrance, you can keep your ticket while go out and eat and return to swim
Weekdays
2.00pm to 8.00pm
Weekends and Public Holidays
9.00 am to 8.00pm
Ticket Price
Ticket prices are different between members , non members and non Malaysians.
Adults 
Member, RM5   Weekend and Public Holiday   ,    RM4 weekdays
Non member, RM 6   Weekend and Public Holiday ,        RM 5 weekdays
Children
RM3
Member RM 2
Non Member RM 3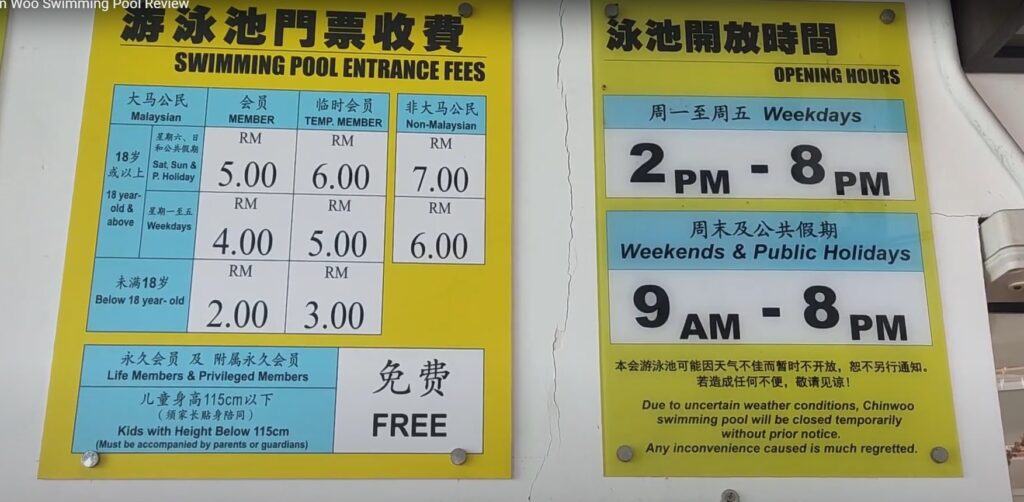 Getting there
You can use Google Map to reach Chin Woo swimming poo. Or it is also just 5 minutes walk away via Merdeka MRT station.