2k Hotspring campsite review
December 1, 2023
Where 2K hot spring located?
2K hotspring is located at Hulu Yam , Selangor. The campsite is easily reachable with a normal car without the need of 4wD.  You can get here with Google map directly. You will pass thru some residential areas and vegetables farm before reaching the oil palm. The road will be a little bumpy especially if you are driving a low car.  The oil palm is older type taller trees without anymore fruits , so it's good for camping. 2K hotspring is famed for its hotsprings. There are a total of 3 hotsprings pool there. One is hotter which is suitable for adult and another cooler big pool which is suitable for kids.  There is also a source water for hotspring which is smoky
Features
Pet friendly campsite
Plenty of rooms and space thus privacy
Facilities
Multiple hotspring pools with various degree of heat, suitable for adults and children
Each site has water pipe access
Toilet is centralize and clean
Power only available at main area
Hot Spring
This is a very family friendly campsite with very little wild factor. It has a very small stream , that is not suitable for swimming. Kids will enjoy catching little fishes from it. The whole campsite is covered by old palm oil trees which are pretty high. This makes the whole campsite cool and nice breeze of wind.  There are plenty of zones here for camping. The site is really huge, which makes it comfortable camping here even with large crowds. You can even park your cars next to your campsite.  Privacy is assured as the camp site is super huge. There are water pipes allocated to each site.  With regards to size, there are just too much spaces and you can even park your car beside your tent.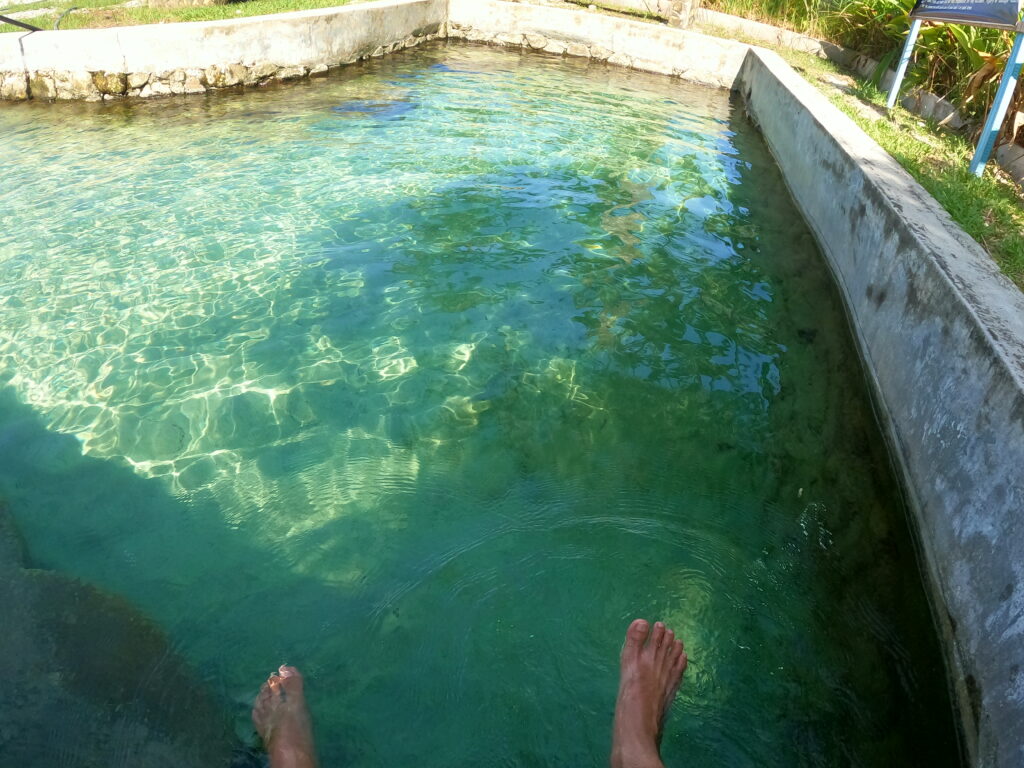 This is a bring your tent and equipment's camping site.  There are ample of clean toilets while water source is available at every site. Toilet and bathroom is located at the center of the campsite  There is a small stream running through the site which makes it suitable for children. Overall this is quite a family friendly or beginner friendly campsite. This campsite is also a pet friendly campsite. You can bring dogs. The onwer has a white dog which loves petting.